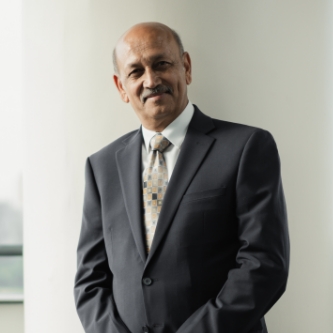 Rajeev Varshneya
COO
Rajeev started his career in the Netherlands with Philips Electronics, a Fortune 100 company in consumer electronics and healthcare. He held C-level positions in technology, strategy and business management roles before becoming the corporate CIO of its consumer business. He founded the Philips Software Center in Bangalore, India for product innovation in semiconductor design, health informatics and industrial automation. Subsequently, he served for twenty-five years as EVP of strategy and product marketing for a set-top box business based in the Silicon Valley.
Rajeev has managed multiple start-up companies providing enterprise software applications targeting industrial automation, wireless sensor networks, loT, AI/ML in track and trace, and safety applications. He was a venture partner at Blade Ventures, an in-house fund of Broadcom Corporation, in Los Angeles.
Rajeev holds a bachelor's degree in Electronics & Telecommunications Engineering master's degree in Electronics Engineering and Computer Science, and has attended executive MBA programs at INSEAD (Fontainebleau, France), IMD (Lausanne, Switzerland), and Paris University for marketing, human resources, corporate development and finance.